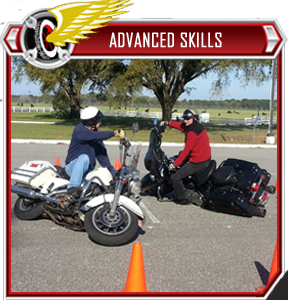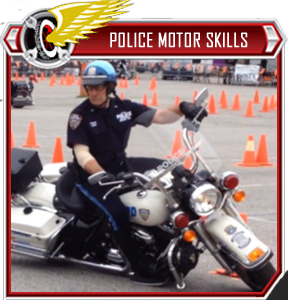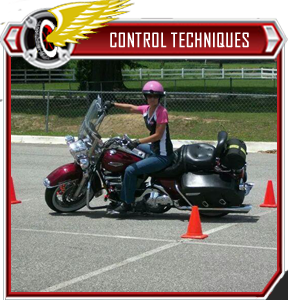 Razor Performance Riding (RPR) is eager to assist those desiring to enhance their riding ability while operating the controls of a motorcycle. We offer general instructional classes, advanced riding, basic police motor school, and advance control techniques in a safe environment.
Each RPR student will learn techniques and master each exercise prior to moving forward.
Razor Performance Riding is dedicated to the development and/or enhancement of the student's knowledge in motorcycle maneuvering and traffic safety.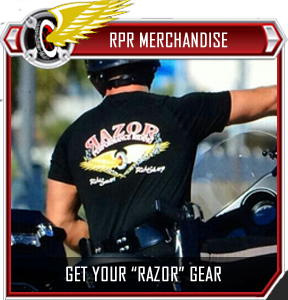 "There is a lot to be said for individuals who not only have a passion for riding, but also care enough to teach those skills to anyone anytime which is a testament to their character. Scott is one of those individuals that is an incredible rider with a lifetime of experience who is willing to share his knowledge with others, whether you're a motor officer, civilian, male or female, it matters not. Want to learn different riding techniques with positive feedback? He is your guy. His love for riding shows in his logo "Ride Smart, Ride Sharp" that really tells it like it is!" Joni Ballard Texas

"Scott Overstreet is a professional in every sense of the word. He is a highly skilled Motor Officer, who constantly is looking for ways to improve himself. He consistently displays a professional positive attitude. He is a credit to Motor Officers everywhere. Do not take instruction from him lightly, as it is instructions from one of the premier Motor Officers in the United States." Captain Jim Woods Commander, Charleston County SC, Traffic Division

"Scott Overstreet is one heck of a good rider. I have had the pleasure to ride with Scott at the Harley-Davidson 110th Anniversary Event in Milwaukee, WI, and at the Emerald Coast Motorcycle Challenge in Ft. Walton Beach, FL. Scott is a fierce competitor with a drive for perfection. He can ride fast and clean, low and slow with everything in-between. If you are looking for a fresh, fun, and complete rider training experience, Scott is a great choice. I look forward to riding with Scott for years to come." Ben Wolfe-Lock and Lean Precision Motorcycle Riding, LLC. Illinois

"I really like the way Scott teaches, he breaks it down to where it sticks with you and becomes a foundation to build your riding skills on. Most of all he is genuine, he really cares that you learn, that you get it." Steve Amason Mississippi

"Just a short note to say thanks and what a pleasure to ride and compete with you in N Charleston Police Rodeo. You certainly add a new dynamic level of skill in your riding ability as well as being personable and helpful to discuss different techniques and take the time to either demonstrate or to constructively critique what another rider is or is not doing. A very big help to my own skill set that you helped improve under a watchful eye. I feel I have been "Razored" – "Excellence is not an accident, its a practiced habit." Bob Sivori, Retired NYPD New York
"There is a lot to be said for individuals who not only have a passion for riding, but also care enough to teach those skills to anyone anytime which is a testament to their character. Scott is one of those individuals that is an incredible rider with a lifetime of experience who is willing to share his knowledge with others, whether you're a motor officer, civilian, male or female, it matters not. Want to learn different riding techniques with positive feedback? He is your guy. His love for riding shows in his logo "Ride Smart, Ride Sharp" that really tells it like it is!" Joni Ballard Texas

"Scott Overstreet is a professional in every sense of the word. He is a highly skilled Motor Officer, who constantly is looking for ways to improve himself. He consistently displays a professional positive attitude. He is a credit to Motor Officers everywhere. Do not take instruction from him lightly, as it is instructions from one of the premier Motor Officers in the United States." Captain Jim Woods Commander, Charleston County SC, Traffic Division

"Scott Overstreet is one heck of a good rider. I have had the pleasure to ride with Scott at the Harley-Davidson 110th Anniversary Event in Milwaukee, WI, and at the Emerald Coast Motorcycle Challenge in Ft. Walton Beach, FL. Scott is a fierce competitor with a drive for perfection. He can ride fast and clean, low and slow with everything in-between. If you are looking for a fresh, fun, and complete rider training experience, Scott is a great choice. I look forward to riding with Scott for years to come." Ben Wolfe-Lock and Lean Precision Motorcycle Riding, LLC. Illinois

"I really like the way Scott teaches, he breaks it down to where it sticks with you and becomes a foundation to build your riding skills on. Most of all he is genuine, he really cares that you learn, that you get it." Steve Amason Mississippi

"Just a short note to say thanks and what a pleasure to ride and compete with you in N Charleston Police Rodeo. You certainly add a new dynamic level of skill in your riding ability as well as being personable and helpful to discuss different techniques and take the time to either demonstrate or to constructively critique what another rider is or is not doing. A very big help to my own skill set that you helped improve under a watchful eye. I feel I have been "Razored" – "Excellence is not an accident, its a practiced habit." Bob Sivori, Retired NYPD New York